Index according to species names for:
Novak & Severa's
coloured field guide of butterflies and moths


Some years ago I was very interested in butterflies and moths. When I had one determined according to another book, and wanted to see what Novak & Severa are writing about the species, I made the experience, that often the insects' genus name had been modified, and I couldn'd find it in the index which is sorted according to genus names. It was hard to find moths by turning over page by page of Novak & Severa, because there is no index according to species names, which usually remains unchanged when the insect is shifted to another genus. When this had happened some times I decided to write an index according to species names myself.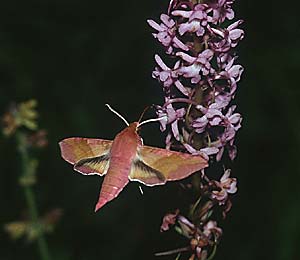 Left: Deilephila elpenor + Gymnadenia conopsea, D Pforzheim 6.7.96
Right: Zerynthia polyxena, F Dept.Var 15.4.01
Here it is -- perhaps there is someone who may need it. My index corresponds with the 5. German edition 1992 of 'Der Kosmos-Schmetterlingsführer'. Since the construction of the book is rather fixed by the coloured tables on every second page (in my edition from page 89), other German and foreign editions should hardly differ. In the Web I have seen that at least English and French versions of the originally Czech book are existing. All butterflies and moths, which are contained in the book, are appearing in the list below, which is sorted alfabetically according to species names, supplied with page numbers, looking like this:
abietaria, Eupithecia, 218
abietella, Diorytria, 140
abietis, Dasychira, 280
.....

Copyright: Use of the images and texts only with author's written permission.